Feb. 6th, 2011 | 05:23 pm

cant lose a list i post on livejournal



SHAME

¨ EVE SEDGWICK, "SHAME, THEATRICALITY, AND QUEER PERFORMATIVITY: HENRY JAMES'S THE ART OF THE NOVEL," TOUCHING FEELING: AFFECT, PEDAGOGY, PERFORMATIVITY

¨ DOUGLAS CRIMP, "MARIO MONTEZ, FOR SHAME," GAY SHAME

UGLINESS

¨ SIANNE NGAI, "ENVY," UGLY FEELINGS

¨ KAREN SHIMAKAWA, "YOUNG JEAN LEE'S UGLY FEELINGS ABOUT RACE AND GENDER," WOMEN & PERFORMANCE

FEELING

¨ GARY FISHER, GARY IN YOUR POCKET: STORIES AND NOTEBOOKS OF GARY FISHER

¨ AMBER MUSSER, "MASOCHISM: A QUEER SUBJECTIVITY?" RHIZOMES

SENSATION

¨ JEAN-LUC NANCY, "FIFTY-EIGHT INDICES ON THE BODY," CORPUS

¨ STEVEN SHAVIRO, "PULSES OF EMOTION," WITHOUT CRITERA: KANT, WHITEHEAD, DELEUZE, AND AESTHETICS

EPHEMERA

¨ JOSÉ MUÑOZ, "GESTURE, EPHEMERA, AND QUEER FEELING: APPROACHING KEVIN AVIANCE," CRUISING UTOPIA: THE THEN AND THERE OF QUEER FUTURITY

¨ ANN CVETKOVICH, "THE EVERYDAY LIFE OF QUEER TRAUMA," AN ARCHIVE OF FEELINGS: TRAUMA, SEXUALITY, AND LESBIAN PUBLIC CULTURES

PSYCHIC LIFE

¨ LAUREN BERLANT, "LOVE, A QUEER FEELING," HOMOSEXUALITY AND PSYCHOANALYSIS

¨ ELIZABETH WILSON, "FREUD, PROZAC, AND MELANCHOLIC NEUROLOGY," PSYCHOSOMATIC: FEMINISM AND THE NEUROLOGICAL BODY

LOOKING

¨ REY CHOW, "BRUSHES WITH THE-OTHER-AS-FACE: STEREOTYPING AND CROSS-ETHNIC REPRESENTATION," THE PROTESTANT ETHNIC AND THE SPIRIT OF CAPITALISM

¨ CATHARINE A. LUTZ AND JANE L. COLLINS, "THE COLOR OF SEX: POSTWAR PHOTOGRAPHIC HISTORIES OF RACE AND GENDER, READING NATIONAL GEOGRAPHIC

WRITING

¨ JACQUES DERRIDA, "SIGNATURE EVENT CONTEXT," LIMITED INC

¨ DYLAN SCHOLINSKI, "WHERE IS THE TRUTH IN PAINTING TODAY?" GAY SHAME

TEMPORALITY

¨ JASBIR PUAR, "PROGNOSIS TIME: TOWARDS A GEOPOLITICS OF AFFECT, DEBILITY AND CAPACITY," WOMEN & PERFORMANCE

¨ ELIZABETH FREEMAN, "TIME BINDS, OR EROTOHISTORIOGRAPHY," TIME BINDS: QUEER TEMPORALITIES, QUEER HISTORIES

REMEMBERING

¨ HEATHER LOVE, "EMOTIONAL RESCUE: THE DEMANDS OF QUEER HISTORY," FEELING BACKWARD: LOSS AND THE POLITICS OF QUEER HISTORY

¨ LEE EDELMAN, "THE FUTURE IS KID STUFF," NO FUTURE: QUEER THEORY AND THE DEATH DRIVE

REPETITION

¨ TAVIA NYONG'O, "BROWN PUNK: KALUP LINZY'S MUSICAL ANTICIPATIONS," TDR

¨ JOAN COPJEC, "MOSES THE EGYPTIAN AND THE BIG BLACK MAMMY OF THE ANTEBELLUM SOUTH: FREUD (WITH KARA WALKER) ON RACE AND HISTORY," IMAGINE THERE'S NO WOMAN: ETHICS AND SUBLIMATION

WIRED

¨ JACKIE ORR, "PERFORMING METHODS: CYBERNETICS, PSYCHOPHARMACOLOGY, AND POSTWAR PSYCHIATRY" PANIC DIARIES: A GENEALOGY OF A PANIC DISORDER

¨ PATRICIA CLOUGH, "QUEER DESIRE AND THE TECHNOBODIES OF FEMINIST THEORY," AUTO-AFFECTION: UNCONSCIOUS THOUGH IN THE AGE OF TELETECHNOLOGY

DIS/ABILITY & DISORDER

¨ ROBERT MCRUER, "CAPITALISM AND DISABLED IDENTITY: SHARON KOWALSKI, INTERDEPENDENCY, AND QUEER DOMESTICITY," CRIP THEORY: CULTURAL SIGNS OF QUEERNESS AND DISABILITY

¨ H.N. LUKES, "CAUSALGIA OF THE HEART: PHANTOM LIMB SYNDROME, DISABILITY AND QUEER FEELING," WOMEN & PERFORMANC
Sep. 19th, 2010 | 11:41 pm

Sew What, LADIES FIRST/Up The Fur
All laddies mixtape (made for/inspired by Charleston)
Queen Latifah, Grass Widow, The Fools, Bessie Jones, Vera Hall, The Shirelles, Salt N Pepa, Cibo Matto, Julie Doiron, TLC, Madonna, Madeline Adams, (the language of wolves, the ocean, some whales), Lyndsey Cockwell, Wisdom Tooth, Teaadora Nikolova, Lizz King, Brandy, CHIC, babyskins, mountain women of peru
+++++++++++
manifesta cover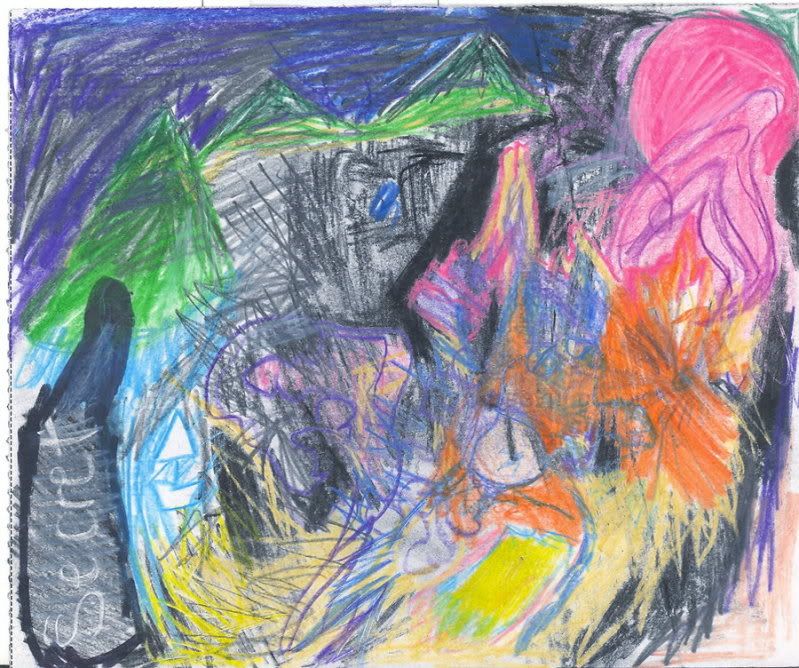 I can hear you better in fear
I am sensitive, the size of a whale.
who's body vibrates the most powerful lullabys?
Trapped with all the little-dads and non-dads, in triangles
when we get them empty, I can hear myself.
no "shhhh" no "shhhhh"
Strum, ah
pick the berries and toss them behind you.
repetitive movements help us know how long 'til we
Get The Job Done.
Jun. 5th, 2008 | 10:37 pm

comment the thing if you aren't a creepy